Spent a little too long getting things together that morning. I'd only slept about 3 hours and had packed nothing.
I needed to catch the 6:40 train in order to make just one transfer before Kanazawa. I got the 7:10 train. I had to get off in Kyoto and wait for almost an hour for the train heading to the end of the line: Tsuruga.
I hadn't factored in that everyone would be heading home for the holidays, so all the trains were packed. I stood for at least an hour after leaving Kyoto. After leaving Kyoto there was a lady who was already squashed against me and she started doing some weird puppet dance with the little girl she was with. Picking up the little girl's arms and flopping them around. When the train stopped, they backed right into me.
The woman apologized several times, and I said it was OK. This is when she started asking me several questions in English which I answered in Japanese. Almost in exasperation she told her friend (who was standing about 3 feet away) that I was doing this. I knew, however, had I given her a whole sentence in English, she could give me that cat face that Japanese people get when they don't understand what you have just said. I mean, they don't really look like cats as much as their faces become expressionless and you're left wondering how much they understood of what you just said.
With people moving in and out of the train, we shuffled around and I just put my headphones back on and looked out the window. It was so overcast and misty that day that I couldn't even see the horizon on Lake Biwa. It looked like there were big blue blobs floating in the grayness. It didn't really matter, I was on the side of the train facing the mountains. So I leaned against the doors and looked at those instead. And sure enough, a woman climbed over a nearby passenger, her little girl and their luggage to throw herself against the 2.5 foot wide space next to me.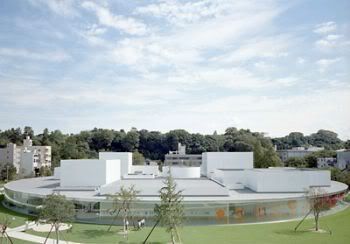 Finally got to the end of the line and waited for my connecting train to Fukui. It was a really old train. Really blocky looking.
A few minutes after leaving Tsuruga we went through a tunnel. It must have taken about 20 minutes to get through it. On the other side everything was covered in snow.
Got to Fukui and had to figure out which platform to go to. I was surprised at how big the station was.
Rode a similar white train to Kanazawa. A family across the aisle from me ate lunch and then played a spirited game of Uno. Seriously, who gets that excited about uno?!!
Arrived in Kanazawa around 2:30. Put me stuff in a locker and walked out of the station. I had no idea where anything was. I'd never been there before. 15 minutes before getting off the train I noticed that all the maps and papers that I had printed out, I had left them all at home. (I'd noticed that I had left my digital camera when i was in Kyoto and bought a disposable camera after getting some freshly blended banana juice ).
Luckily I found a place where I could use the Internet to look it up. I got a taxi to the hotel. But there are 5 or 6 hotels in Kanazawa called APA. He took me to the wrong one so I had to walk up the road to the one I needed.
I checked in, put my stuff in the room, and went to the contemporary art museum.
It was the main reason for me to go to Kanazawa. When I first came in I could see people looking into a swimming pool.
Once I could see into the pool I could see what a fantastic illusion it was. The top portion was very shallow with a plexiglass bottom. You could see through to the room below. And those in the room below could look up through the pool at you.
Yoshitomo Nara was having a big project there. There were several things that he was doing, but the biggest thing was in a big room with black walls there was a small house inside with a head/ the moon perched on the front.
Inside of the house was a workshop. His studio for the duration of this project. On certain days you can go in and see him working. Even talk to him. But I had gone on one of his off days.
Left the museum and kicked around for a little bit before deciding to buy supplies: a small towel for the onsen, a 2 pack of "classy bubblebath," a big bottle of water, and dinner from McDonalds.
I called it a night and went back to my room. Ate dinner and then read my book in my "classy" bath.
Went to bed about 7:30.